In most contexts, hugs are a social staple—a seemingly harmless means of expressing affection and friendship. However, a recent decision by the Ninth Circuit Court of Appeals has left employers vulnerable to lawsuits when hugs in the workplace are deemed unwelcome or excessive.
The plaintiff in Zetwick v. County of Yolo was a female correctional officer at the Yolo County Sheriff's Department. She alleged that between 1999 and 2012, the county sheriff—who was the highest ranking officer in the department—bestowed upon her over 100 unwelcome hugs and at least one kiss. She also claimed that she had seen the defendant hug several other female employees, but had never seen him hug male employees. The plaintiff contended that these frequent hugs made her so uncomfortable that she suffered from constant stress and anxiety, causing her to lose sleep and sometimes cry at work. Therefore, she sued the county on the grounds that the defendant's conduct created a hostile work environment and constituted sexual harassment.
After considering the facts of the case, the Ninth Circuit held that "hugging can create a hostile or abusive workplace when it is unwelcome and pervasive." In reaching this conclusion, the court accounted for several factors, including the power differential between the defendant sheriff and the plaintiff, the frequency of the hugs, and the allegation that the defendant only hugged females.
The full text of the Ninth Circuit's opinion in Zetwick is available here: 
In light of Zetwick, how should employers approach the issue of hugging in the workplace? It is important to remember that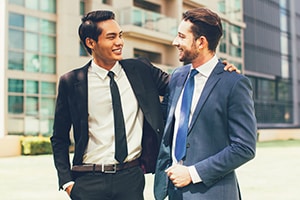 what constitutes offensive conduct or sexual harassment is highly subjective, and an employer should not assume that a gesture is acceptable to all employees just because it is commonplace or intended to be friendly. To reduce the risk of liability, employers should consider the following measures:
Bolster harassment training efforts and inform managers of the implications of the Zetwick decision.
Review employee handbooks and consider including guidelines about when—if ever—hugging in the workplace is permissible. Keep in mind that the issue may be influenced by the relative ranks and genders of the employees involved, as well as the frequency and assertiveness of the hugs.
Consult with attorneys or other HR experts. The best way to avoid lawsuits is to regularly have an HR professional review your employee handbook and workplace policies and offer guidance on whether they comply with the latest laws.
Wondering whether your organization could be subject to liability for unwelcome workplace hugging or other conduct? At CBR, we make it our business to stay current on changing laws and new court decisions that affect employers. Our team of HR professionals can review your employee handbook and other workplace policies to ensure compliance. Contact CBR today to learn more about our services!