PAYROLL ADMINISTRATION
CBR's team of payroll experts will handle your complete payroll process while helping your organization save time, reduce costs, and improve accuracy.
REDUCE COSTS AND FREE UP TIME WITH CBR'S EMPLOYEE MANAGEMENT SERVICES
Payroll Administrative Services – Cutting Costs
How would you like to remove the dreaded "Payroll" task from your long list of administrative duties? Outsource your payroll processing to CBR. We will assign a payroll expert to handle your specific payroll needs.
Payroll Process
Direct Deposit
Job Costing Reports
Section 125 Pre-tax Administration
Flexible Spending Accounts
Payroll Deductions, Garnishments and Levies, and Child Support
Vacation, PTO and Sick Pay Accruals
Quarterly Tax Returns – FICA, FUTA, SUTA
Federal, State and Local Tax Payments
Assistance with Payroll Tax Audits
Production and Delivery of W-2s
Payroll Administration
A designated payroll specialist with a backup team
Employees paid by direct deposit or prepaid cash card
Job Costing Reports
Departmental reporting
Holiday and vacation savings clubs
Section 125 Pre-tax administration
Payroll deductions, garnishments and levies
PTO, vacation and sick pay accruals
Quarterly Tax Returns – FICA, FUTA, SUTA
Federal, State, and Local employer taxes
Support with payroll audits if necessary
Manual checks within 24 hours
Production and delivery of W-2s
Quick turnaround on special requests
Access to online time-tracking
ACA (Affordable Care Act) compliance and reporting
Finding Payroll Efficiencies
We help you find opportunities to streamline your payroll process. Our team will work with you to identify pitfalls or potential efficiencies.
Online Access
CBR offers great solutions for submitting payroll, running custom reports in real time, and tracking employee information. Online access ensures that your payroll information gets uploaded directly into the CBR system and gives you hands-on control of your employee data. Employees can log in to view the personal information that they submitted during the onboarding process, making sure it stays current at all times. No software to install.
CBR WebClock/Time and Attendance Tracking
CBR's WebClock/Time and Attendance system provides an integrated solution with management of all punches through a secure internet connection. This software has saved CBR clients hours of time and thousands of dollars. Biometric readers, geo tracking, swipe card and online clocks are all available, with integration of multiple clocks on one account, making tracking simple. No software to install.
Did you know that the average payroll clerk spends 7 minutes per timecard preparing, computing and verifying data? What if you could automatically transmit time and eliminate timecards? An inaccuracy of only 5 minutes a day is worth $3,600 annually to a company of 20 employees, not including employer taxes.
Employee Files
CBR creates and maintains all mandatory employee records including I-9s, W-4s, state-specific tax forms and benefit enrollment forms. Employee-specific information is retained in the employee file including:
New Hire Forms
Reports of Injury
Pay Changes
Termination Forms
Discipline/Counseling reports
Severance Agreements
Policy Updates
Onsite HR Training Sessions (e.g. sexual harassment, safety, discrimination)
Your Payroll Duties: Before and After
With comprehensive employee benefits services from CBR, your business eliminates the need to manage multiple vendor relationships. By outsourcing your payroll duties to CBR, you save time, reduce costs, and improve focus, while still retaining control over your workforce.
Compare your payroll duties (link) before and after working with CBR. This graph (link) will help you understand the distribution of duties between you and CBR.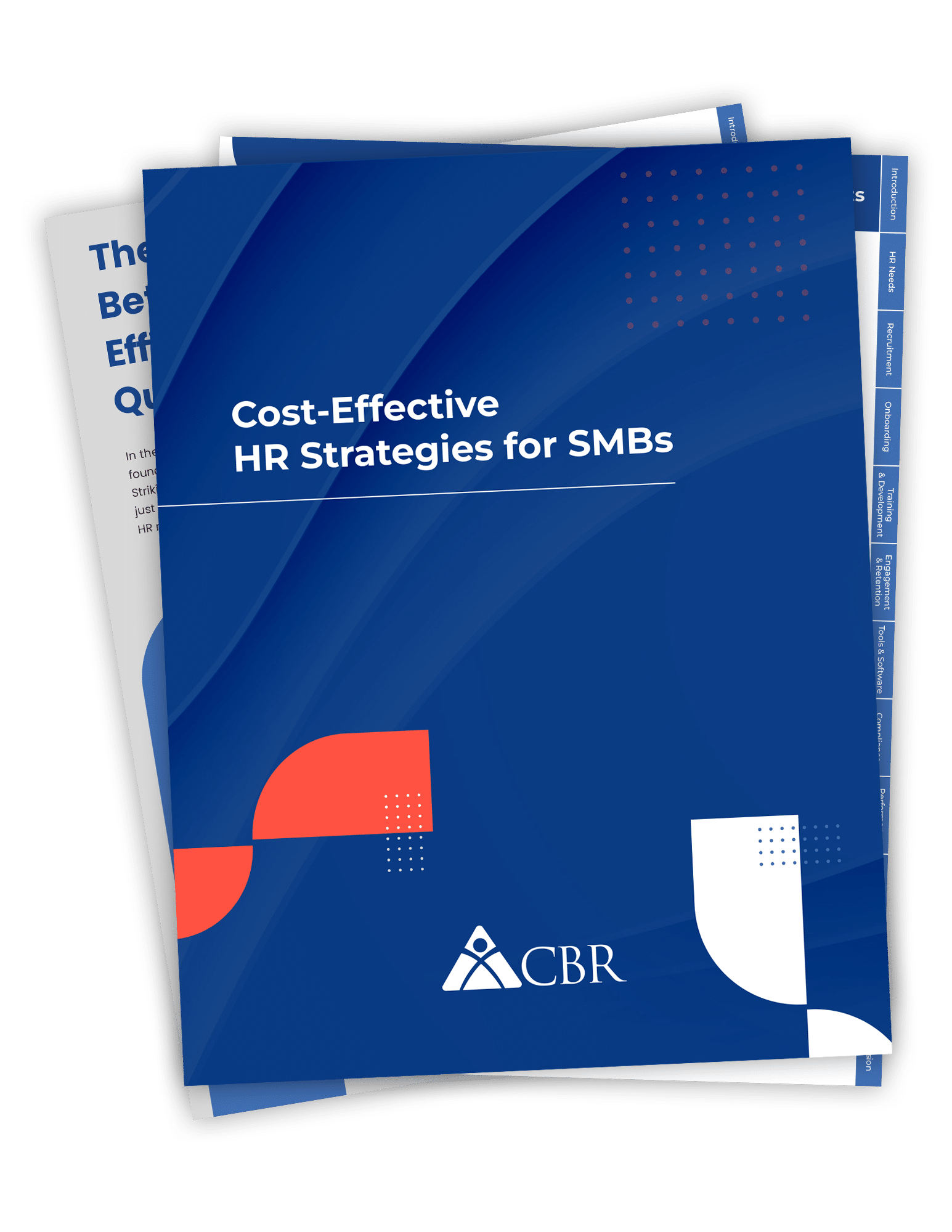 THE ULTIMATE HR GUIDE
to onboarding, training, and retaining top talent.
REQUEST A PROPOSAL OR SPEAK WITH AN HR CONSULTANT
Existing clients, please call (602) 200-8500 for direct support. Ready to make HR a breeze? Call (833) 602-8500 Today.