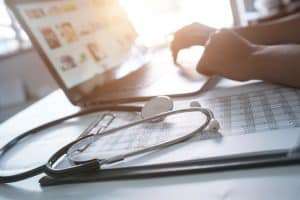 In 2014, the Medical Economics Physician Practice Survey found that over 84 percent of doctors felt their practices were faring the same or worse financially than the previous year. This statistic has likely become more grim as medical practices contend with numerous obstacles that threaten their profit margins and ability to fulfill their core mission of providing patients with the best care possible. Such obstacles include a surge in patients caused by the expansion of healthcare coverage under the Affordable Care Act (ACA), a growing regulatory and administrative burden due to new laws, and a shift to value-based reimbursement models that make highly qualified staff members indispensable for practice success.
In light of the recent hurdles, it is becoming increasingly important for practices to maximize the potential of each employee and ensure that all team members are performing optimally on a day-to-day basis. Here are five HR and practice management issues facing the medical industry—and strategies for conquering them:
   1.  Recruiting qualified candidates.
Through the ACA's individual mandate and Medicaid expansion, an estimated 32 million additional Americans now have health insurance. For medical practices, this means an overwhelming number of new patients—which, in many cases, has led to a shortage of healthcare providers.
Practices must explore several strategies for overcoming this shortage and attracting candidates who will drive success. For example, they should invest in employer branding, or the process of cultivating a positive reputation as an employer. Employer branding involves defining a company culture that aligns with the practice's values and vision. The essence of this culture should be conveyed over all channels used for recruitment—including social media—and clearly communicated to candidates early in the hiring process. In addition, medical practices can entice top talent with a variety of employee benefits. While competitive salaries are always an effective recruitment tool, practices should consider offering perks like flexible scheduling, generous time-off policies, and ample training opportunities, which appeal to ambitious candidates looking to grow with the organization.
   2.  Improving employee retention.
Staff turnover is one of the most significant personnel problems for medical practices. In addition to the costs associated with replacing employees, a high turnover rate may heighten the practice's exposure to liability since newly hired employees are more likely to commit errors than their experienced counterparts. Furthermore, improving employee retention can have a positive effect on patient satisfaction, which is becoming increasingly important under value-based reimbursement models that reward quality and outcomes. Given the sensitive nature of the information that patients share with their healthcare providers, they tend to feel more comfortable when they see familiar faces at the office.
How can medical practices combat the high employee turnover rates that are prevalent in the industry? Even as shrinking profit margins make it difficult to offer employees salary increases, it is crucial that each staff member is rewarded for outstanding work and reminded that their efforts are valued. Employees should know that they have the opportunity to support the success of the practice and make a positive impact on patients' lives. They should also have access to the tools, support, and training they need to excel, which will help them avoid burnout when faced with a growing workload.
   3.  Coping with expanding regulatory and administrative burdens.
As a result of the ACA, other laws, and the fact that more payers are now requiring prior authorizations for treatments, medical practices are contending with a mounting avalanche of paperwork and an escalating risk of costly administrative mistakes. According to the 2014 Practice Profitability Index, 70 percent of doctors spend more than one day per week on paperwork—compared to 58 percent in 2013. Clearly, this quickly worsening problem detracts from providers' main goals of caring for patients. Hiring a sufficient number of support staff members and cross-training employees can help ensure that the practice always has adequate personnel to accurately manage paperwork, while minimizing the negative impact on quality of care. In the realm of HR, outsourcing certain functions—such as payroll, employee benefits, and talent management—can significantly alleviate the administrative burden, leaving employees with more time to devote to the most important aspects of their jobs.
  4.  Offering opportunities for employee training and development.
From medical techniques to workplace safety to legal compliance, there are a myriad number of topics that employees of a medical practice must master in order to excel in their roles. Investing in employee training and development will help practices foster engagement while improving the quality of care they are able to provide. Fortunately, online courses offer a cost-effective way for employees to advance their knowledge and skill sets at their own convenience. Medical practices may also consider implementing a system of bonuses or other rewards and recognition to give employees an incentive for completing voluntary training.
  5.  Complying with changing HR laws.
Like businesses in any other industry, medical practices are subject to various laws and regulations that govern the employer-employee relationship. In recent years, many of these laws have expanded, imposing onerous new requirements on organizations. For example, the ACA requires medical practices with 50 or more full-time employees—defined as those who work at least 30 hours per week on average—to offer affordable, minimum essential health insurance coverage to such employees and their dependents. Although President Trump has vowed to repeal the ACA, employers must abide by the law until further notice.
In 2016, voters in many states, including Arizona, passed laws to raise minimum wage rates and require employers to offer paid sick leave policies. Since medical practice staffs often include lower-skilled workers who may be subject to the minimum wage, businesses in these states can expect to face climbing costs. In order to avoid the risk of penalties for failure to comply with these laws, medical practices should consult HR experts.
As laws and trends in the healthcare industry change, Creative Business Resources (CBR) acts as a partner in ensuring success for medical practices and other organizations. By offering a variety of HR outsourcing services such as payroll processing, talent management, recruitment assistance, and employee benefits administration, CBR enables medical practices to devote more time and resources to their core missions: providing optimal care for patients. Contact CBR today!
(Sources: https://hiring.monster.com/hr/hr-best-practices/recruiting-hiring-advice/strategic-workforce-planning/hiring-affordable-care-act.aspx, https://medicaleconomics.modernmedicine.com/medical-economics/news/top-15-challenges-facing-physicians-2015?page=full).