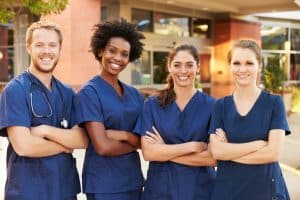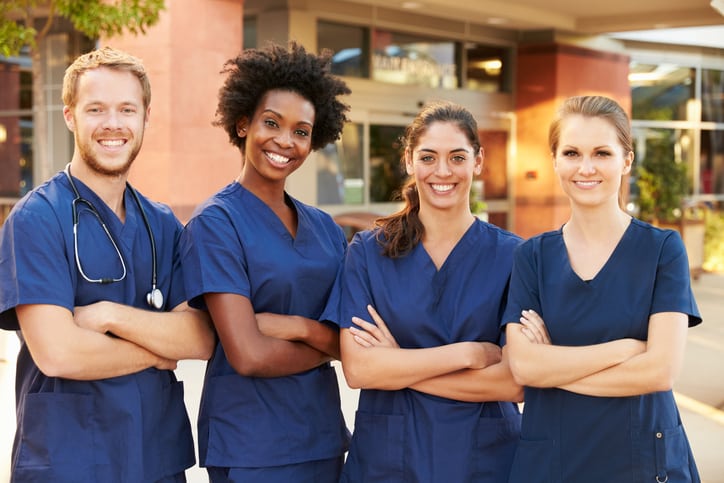 In recent years, medical practices have faced an influx of patients and a growing administrative burden—partially as a result of the Affordable Care Act (ACA), which greatly expanded access to healthcare and imposed new regulations on physicians. In light of these challenges, practice managers are increasingly realizing the importance of a cohesive, highly skilled workforce.  Attracting, developing, and retaining employees who will help the practice succeed are some of the keys to remaining competitive in a changing industry.
When any business is struggling with a high employee turnover rate, it will likely experience a detrimental impact on its bottom line. The average cost of replacing an employee is estimated to total up to 150 percent of the annual salary for the position.  This figure is calculated based upon expenses associated with recruitment, like the cost of advertising the open position, the cost of paying someone to train the new employee, and lost productivity as the new hire learns the role.  A high turnover rate also has a ripple effect among the remaining workforce, damaging morale and distracting employees from their usual tasks as they are forced to assume the job duties of the vacant position.
Medical practices face unique challenges associated with high staff turnover.  When specific knowledge about patients, medical procedures, and the office's particular methods is frequently being subjected to the learning curves of new employees, the practice may be exposed to liability due to the heightened risk of errors.  Medicare and many private insurers now consider patient satisfaction scores when calculating reimbursements, and a high turnover rate may have a detrimental impact on these scores.  Since patients often reveal sensitive information to the staff members of their medical practices, they tend to be more satisfied if they are greeted by familiar faces at their visits.
In a changing healthcare climate, how can medical practices keep their costs low and their patients satisfied via strong employee retention?  Practice managers should focus on developing a comfortable, collaborative environment that facilitates employee development and motivates each team member to maximize his or her potential.  Here are a few strategies to help achieve this goal:
Hire the right people in the first place.  While hiring is not a foolproof process, interview and screen carefully to ensure that chosen candidates possess the necessary skills required by the position and will fit in with the culture of the practice.  Refrain from rushing the selection process.
Foster a team mentality among the workforce by establishing goals for the practice.  The most effective way to do this is to clearly define goals, communicate them to staff members at all levels, and ensure that each employee knows that he or she is vital to fulfilling those goals.  Employees thrive on the knowledge that their purpose transcends the mere performance of their job duties.  When employees feel that they are an integral part of an organization's culture, they are more likely to be personally committed to advancing the organization's growth and success.
Encourage employees to share their personal career goals.  Staff meetings and one-on-one mentoring sessions provide excellent opportunities to discern this information.  Link employees' individual goals to the broader goals of the company and demonstrate how the two complement each other.  If employees can see that their personal visions support and will be supported by the organization, they will be less likely to seek employment elsewhere.
Develop effective training programs for employees.  High-performing employees often leave their jobs because they do not see opportunities for career development.  In today's digital age, online courses offer a cost-effective way to allow employees to conveniently sharpen their skill sets.  Facilitating these opportunities will encourage employee retention while benefitting the organization by improving the overall skill level of the workforce.
Conduct regular evaluations to assess whether employees are reaching their personal goals and furthering those of the organization.  Accountability is necessary to ensure that each staff member stays on target, and evaluations will help practice managers identify low performers who may need additional coaching or removal from the organization.
Establish a reward system for meeting individual and practice goals.  Employees will be happier and more committed to their positions when they know that their hard work is recognized.  In addition, offering competitive pay and benefits and valuing work-life balance are powerful tools in the employee retention effort.
Medical practices are subject to various factors beyond their control, such as changing laws and regulations.  A practice's workforce is integral to its success, and the strength of the workforce falls within the realm of the practice manager's control.  By taking steps to reduce turnover, medical practices can control their costs, improve morale among existing employees, and boost patient satisfaction.
Need assistance with attracting and retaining highly qualified employees for your medical practice? CBR's recruitment and human capital management services can help you build a successful workforce – contact us today!
(Sources: https://www.cms.gov/Medicare/Quality-Initiatives-Patient-Assessment-Instruments/HospitalQualityInits/index.html?redirect=/HospitalQualityInits/30_HospitalHCAHPS.asp).