UTAH HR OUTSOURCING
Ready to begin freeing up time to grow your business while the HR experts at CBR ensure that your HR administration is handled accurately and efficiently?
REDUCE COSTS AND FREE UP TIME WITH CBR'S HR SERVICES
Save Money and Boost Profits with Utah HR Outsourcing
Are your employees spending significant amounts of time on tasks that don't produce profits? Administrative tasks—payroll processing, recruitment and employment verification, benefits administration other similar HR functions—represent overhead that doesn't contribute directly to your bottom line. HR outsourcing can help.
How Can You Save Money with HR Outsourcing?
When you contract with an HR outsourcing company like Creative Business Resources (CBR) to handle your HR administration, your employees get more time devote to their core job duties, and we can complete those routine tasks more accurately, efficiently, and economically.
Utah Payroll Services
Payroll processing is time-consuming but essential. Payroll managers do much more than distribute checks—they also have to ensure that employees receive the wages and benefits to which they are entitled while avoiding penalties for late wage and tax payments.
Over half of all companies in Utah have paid tax penalties of $1,000 or more at some point due to late or inaccurate filings. When you outsource your payroll to CBR, you eliminate the risk of penalties. Payroll services with CBR cover the following important tasks:
Accurate employee timekeeping and tracking of sick leave, vacation, and PTO
Collecting and filing payroll taxes
Creating, issuing, and ensuring the accuracy of W2 and W4 forms
Maintaining currency on health benefits and shared costs, retirement accounts, and other deductions
Managing direct deposit arrangements
Promptly issuing payroll checks or stubs
At CBR, we have the expertise needed to ensure that your payroll processing gets done when it should and is free of errors, so that the risk to your bottom line disappears. In addition, your employees are free to devote the time they used to spend on payroll to profit-generating activities.
Employee Recruitment and Verification
When you hire a new employee it's crucial verify that each candidate is legally entitled to work in Utah and possesses the right skills, experience, and cultural fit to excel in the position.
Federal law requires all U.S. employers to follow business immigration law (https://cbri.com/human-resource-services/immigration-compliance/), which includes I-9 filing and management of the E-Verify program. The State of Utah levies hefty penalties for failure to comply with these requirements and knowingly hiring undocumented workers.
When you trust employee verification to CBR, you bring new hires on board quickly, at less cost, and with the assurance that the process has been completed properly. We are experts at complying with immigration and employment laws and will save you valuable time screening candidates.
Outsourcing Other HR and Administrative Functions
As a Utah PEO (Professional Employer Organization), CBR offers a full spectrum of services to help you cut costs while improving accuracy and efficiency. Our services include:
Creating and implementing employee policies, including handbooks
Providing HR training for managers
Improving workplace safety and reducing workers' compensation costs
Offering large group buying power and access to high-quality health insurance at affordable rates
Administering employee benefits
Providing reliable employee time-tracking software
Offering a cost-effective 401K plan
Let CBR be your external HR department and get the benefit of having experienced HR professionals handle your time-consuming HR and administrative functions. Contact us today (https://cbri.com/contact/) for more information on how we can reduce your overhead and improve your profits!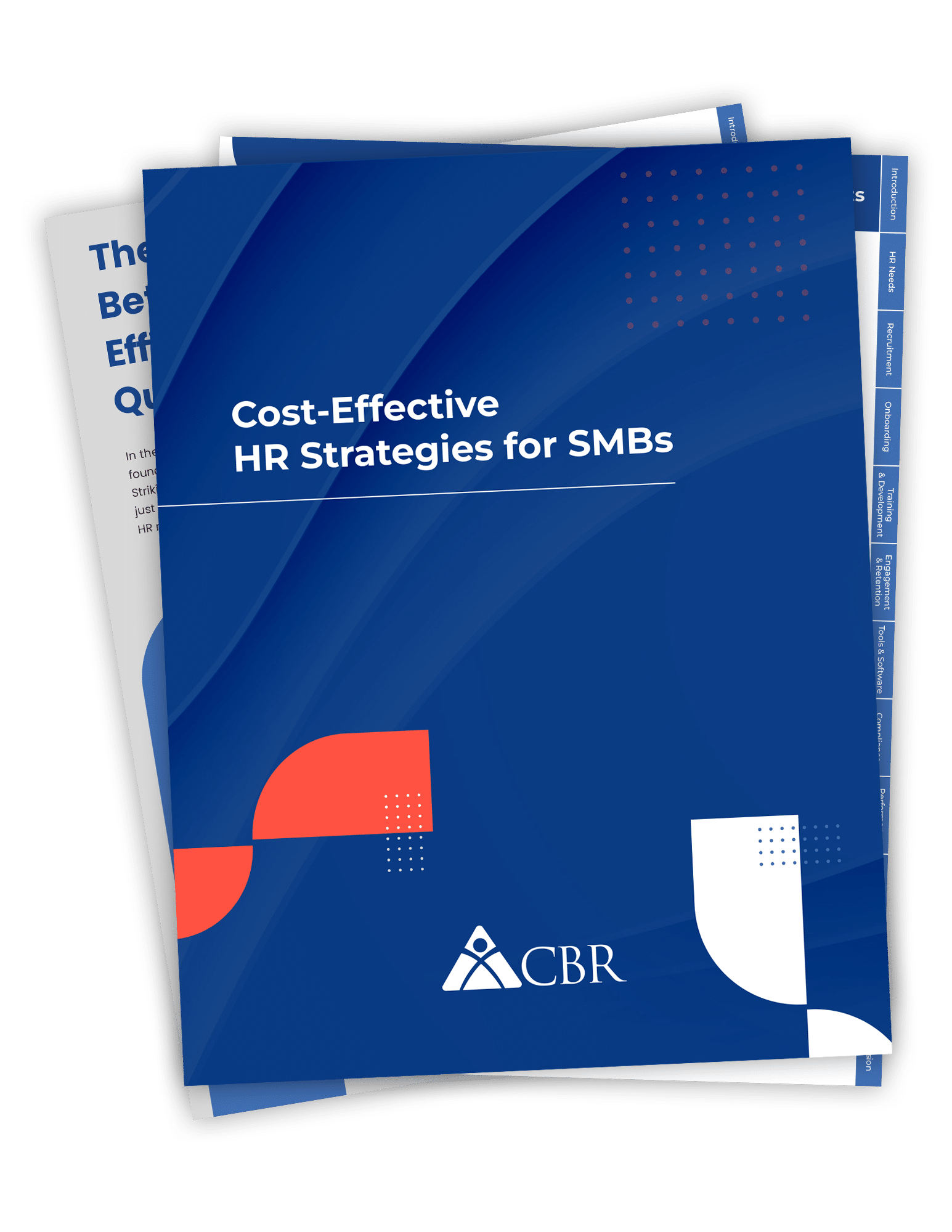 THE ULTIMATE HR GUIDE
to onboarding, training, and retaining top talent.
REQUEST A PROPOSAL OR SPEAK WITH AN HR CONSULTANT
Call us at (602) 200-8500 or request a proposal and an HR Consultant will contact you to discuss customized HR services for your business.