LAS VEGAS HR OUTSOURCING
Ready to free up time to grow your business while the HR experts at CBR ensure that your HR administration is handled accurately and efficiently?
REDUCE COSTS AND FREE UP TIME WITH CBR'S HR SERVICES
What Can a Las Vegas HR Outsourcing Provider Do For Your Organization?
Increase Productivity and Profits
With streamlined processes and maximized efficiency, organizations with strong HR practices enjoy increased productivity and greater profitability. An HR Outsourcing company can help you manage the unique issues that you face as an employer in Las Vegas.
Local Knowledge and Expertise
As a leading Las Vegas HR company, Creative Business Resources (CBR) is staffed with HR professionals experienced in identifying which practices will yield maximum benefits for you and your employees. Unlike large, national HR Outsourcing companies, we offer local expertise and have in-depth knowledge of the Nevada laws that impact your workforce.
Get relief from those pesky administrative tasks
One of the primary benefits of HR Outsourcing is that your employees gain time to work on the tasks that drive profits. Here are a few examples of administrative duties that CBR can handle for your Las Vegas company:
Hiring and Terminating Employees. We will handle your new hire paperwork and provide support with employee onboarding and terminations. If your company tends to have high workforce turnover this can be a real timesaver!
Employment Verification. The legal status of their workforce is a constant concern for many employers. CBR will help you verify that employees have proper documentation under state and federal immigration laws and ensure I-9 compliance.
Nevada Payroll Services. If you have tried to manage payroll processing by yourself, you know that it involves much more than just paying employees. It requires withholding the right amount of taxes, tax reporting and filing on a timely basis, handling benefits charges and garnishments, and ensuring that time is reported correctly. CBR will takes care of all these tasks.
Employee Benefits Administration
Administering employee benefits is another activity that consumes a lot of time and attention. Employee healthcare costs can quickly spiral out of control, so employers must ensure that they're getting the most value for their money. With CBR's large group buying power, we can help you offer affordable medical, dental, and vision insurance, as well as flexible spending accounts. Benefits like that enable you to boost workforce success by attracting and retaining the best employees.
Maximize the Strength of Your Workforce
Offering competitive benefits is not the only way to build a successful workforce. Improving productivity begins with hiring the right people, and CBR's Recruitment Services can help you find the ideal person for each open position. We also provide assistance with the screening and interviewing processes—including pre-employment background checks and skills and drug testing—as well as onboarding new hires. Through our Human Capital and Talent Management Services, we can also help you manage workforce performance and create training materials that enable employees to fulfill their potential.
Find Out More About How to Save Time and Money for Your Organization
With services like benefits administration, recruiting, and talent management, CBR can be your go to HR source in Las Vegas. Our team of HR professionals can handle your organization's administrative duties so your employees can focus on increasing profits. For more information about Las Vegas HR Outsourcing, call our toll-free number at (888) 700-8512 or contact us (https://cbri.com/contact/) to speak with an HR consultant.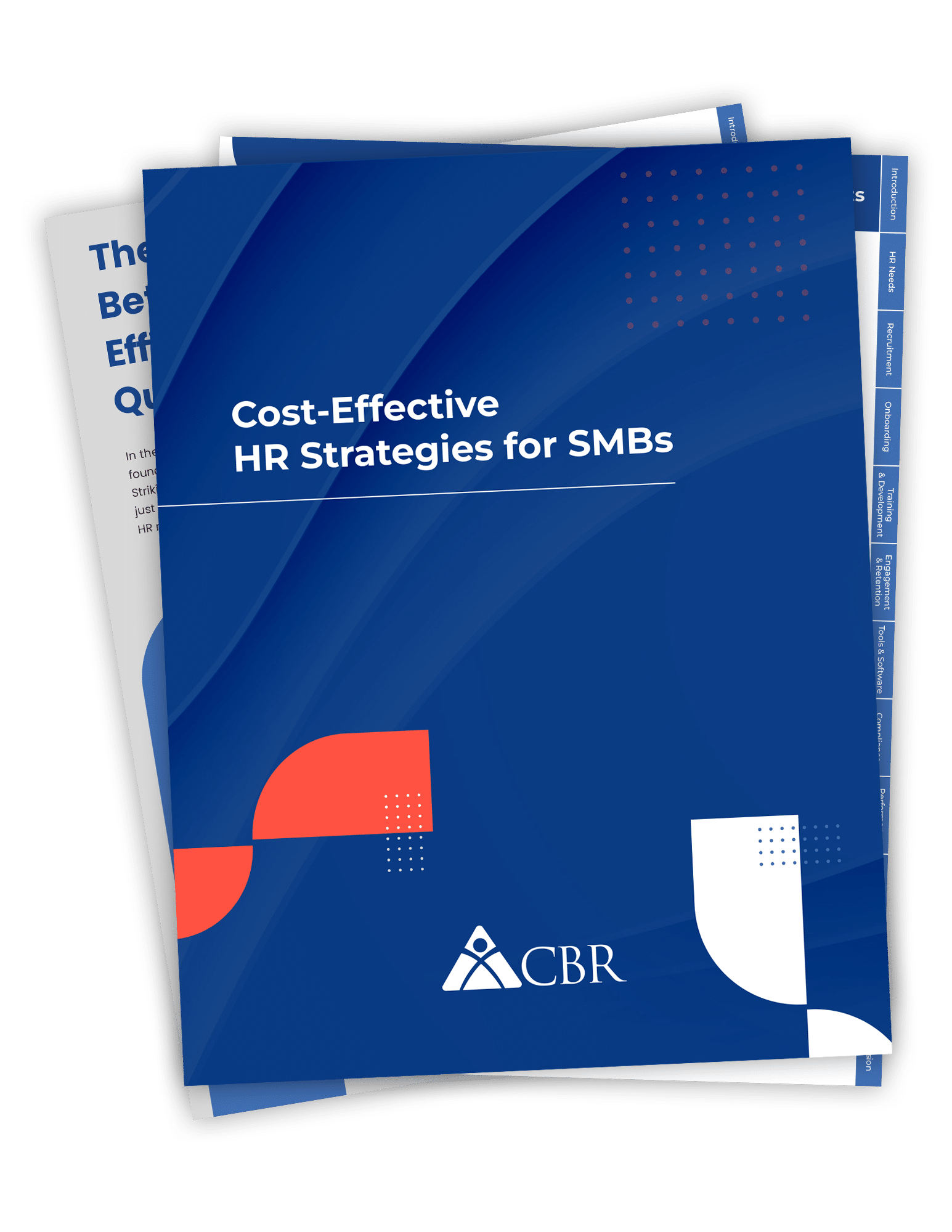 THE ULTIMATE HR GUIDE
to onboarding, training, and retaining top talent.
REQUEST A PROPOSAL OR SPEAK WITH AN HR CONSULTANT
Call us at (602) 200-8500 or request a proposal and an HR Consultant will contact you to discuss customized HR services for your business.