Making Safety Fun!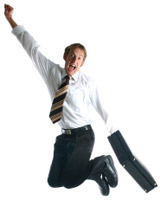 Employees hate safety meetings!  Safety experts tell us they are important, but what a grind!  Who wants to sit through boring meetings, with a boring speaker, talking about a boring subject!  What a waste of time!
While it is true that safety meetings are an integral part of a successful safety program, they seem to become more of a "necessary evil" than a worthwhile element of the overall safety culture of your company.
It doesn't have to be that way!
Safety meetings can be fun, informative and beneficial to your employees!  Here are three important aspects of making those
15-20 minute meetings a success:
1. Preparation
2. Open with a bang!
3. Involve your audience
Preparation
Do you find yourself scrambling at the last minute to find a "toolbox topic" or some other safety tidbit to share at your safety meetings?  While you're frantically searching the internet or your files, your phone rings…or a co-worker has a "quick question"…or you get distracted momentarily with another to-do.  So, you grab the first thing you see that contains the word "safety" and you burst into the meeting room to read the script and get the sign-off that your employees have, indeed, attended this week's "safety meeting!"  What a waste of time!
Instead, schedule 15 minutes to plan the topics for your next 4 safety meetings.  Ask yourself:
What topics are relative to what we do?
Are there specific areas that are currently problematic?  (Example: workers have become lax in wearing personal protective equipment, the weather is getting warmer and workers don't seem to be drinking enough water.)
What are we doing well?  (It is okay to talk about positive things at a safety meeting!)
Next, take time to think of specific examples that are applicable to your topics.  These should be familiar to your workers.  For example, if you are talking about scaffolding safety, what is the worst condition of scaffolding you have seen this week?  What "near misses" have you or others observed?  On the other hand, who have you observed properly inspecting scaffolding this week?  (It really is okay to talk about positive things at a safety meeting!)
Jot down those examples to use during your presentation.
Open with a Bang!
Well over half of your workers will lose interest within 5 minutes if they think, "this doesn't apply to me!"  Relate the topic to your group…and do so immediately!  For example, if you are talking about the importance of safety, you could open with something like this:
"In the time it takes to conduct this meeting, 1 American will likely be killed and about 150 will suffer a disabling injury.  By the end of the day, we will have lost 14 workers and another 10,000 will be injured."
Your workers are now "tuned in," because they have heard statistics they hope to never be a part of!
Startling your audience is only one way of grabbing their attention.  However, any time you can relate your topic to the employees involved in the meeting, the more likely you are to hold their interest.  Check out the links below for more ideas!
Involve Your Audience
It has been said that people will remember 20% of what they hear, 30% of what they see, 50% of what they see and hear and 80% of what they hear, see and do! Get your group involved!
One way to get people involved is to set up a competition.  Divide the group into smaller groups and give them a task or a project.  For example, if you are training a group how to correctly put on safety harnesses, have a competition to see which group can put their equipment on the quickest, with no mistakes.  Or, put up a picture of an unsafe worksite and see how many hazards each group can identify in 2 minutes.  (This is a great idea to get your workers focused on potential hazards!)
Another way to involve them is to do something constructive together.  Divide workers into smaller groups and have them actually assemble a small section of scaffolding, for example.  Or, perhaps you could make them accident investigators!  Describe an accident scenario (or show a picture of an accident scene) and ask them to suggest ways they would investigate the causes of that accident.  They could also suggest what to do to keep it from happening again.
Use quizzes to involve your group.  Tell them ahead of time that there will be a quiz.  Everyone who scores 100% could be rewarded with something such as a free soft drink, a coupon for a free item at a local coffee shop or fast food restaurant, or something similar that would send the message that "this is worth paying attention to!"  (Small tokens pay big dividends!)
Safety meetings don't have to be drudgery to conduct or to attend.  In fact, they can become a very informative and critical part of your safety program.  Resources abound!  In fact, here are a few websites with useful tools to make your safety meetings more effective:
Make Safety Fun
Safety Power Point Presentations
Toolbox Topics in English and Spanish
Remember…prepare well, open with a bang and involve your workers.  Those 15-20 minute meetings will suddenly become more exciting for everyone involved!
Contact us or request a proposal for more information!