How you write an annual performance appraisal could work for or against you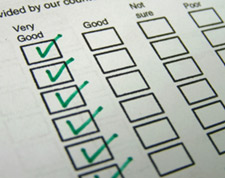 How to write a performance appraisal: there's a right way and a wrong way
How you write a performance appraisal is about improving performance and rewarding achievements. It needs to be so much more than a way a manager "gets even" or a reason not to pay out bonuses. It is doubtful that anyone truly enjoys the performance review season because of the numerous ways the review is so often misunderstood and misapplied. Actually, such an annual review of performance is part of a great set of tools and you can use it to learn how to write a performance appraisal and reward them for excellent work well done if you understand the importance of the process and the methods for properly carrying out better employee relations.
Review performance review examples and find one to bring out the best qualities as they relate to your business. There are a number of performance review examples and templates on the site to help get you started.
Reasons and Methods for How to Write a Performance Appraisal
Why do we write-out performance reviews? Examples include creating criteria for advancement, creating a basis for a bonus structure and reviewing the recent fiscal year. The latter can be done in one of three ways: (qualitative, subjective information and assessments (fair); quantitative and objective information and measures (better); or blended, a combination of the two (best).
Performance reviews answer a basic human need and that is to justify us to each other. Performance reviews are tied to justification for salaries, bonuses as well as personal and company goal achievement.
The Performance Review
Qualitative assessments are based on feelings. For example, how does a manager feel that each of the mail room workers does based on subjective observations? Quantitative assessments on the same people would measure the volume of mail processed in and out, and the percentage each of the three is responsible for processing.
For a number of reasons, the qualitative measurement can be unfair primarily because your impressions of the worth of a person may actually be in conflict with the facts in the matter. That is why you should combine such measurements with real, qualitative measurements.
When do most companies do performance appraisals?
Performance reviews can be also tied to annual events such as well as annual income reports, financial fiscal years and budgetary planning. In short, performance reviews are really about the allocation of budgets and return on investment.
Without a doubt, most people hate performance review season, especially those directly involved. Actually, there is a great deal of ambivalence about them. Managers love them but dread doing them. The one, upside for the managers is that the employees they review don't get to review them. After an entire year has gone by, it is extremely difficult for managers to accurately assess the performance of their charges because so much has been done and so much has passed by that it is impossible to remember those little events that actually made the difference in productivity and overall success.
The first action to take in gathering the resources is to require your staff to write self-assessments on the same form you will use in your review. In many cases you can end up using their own words, although anticipate a certain amount of self-aggrandizement to occur in their write-ups.
Next, review your own email records. Email is such an integrated management tool these days that you may be surprised just how much of the actions of the year you have captured in thank you notes, suggestions, orders and notifications. Run off copies or simply read them and take notes of the plusses and minuses.
Also, check your memo file for handwritten memos and notes—even those left on each other's desks requesting conferences, and so forth. You can find other helpful tips on how to write a performance appraisal to get more out of your employees reviews in the New Year.
Remember these 6 things to do
DO focus on the ENTIRE year. It is a common bad habit for managers to just think about the past thirty days. Top of mind is a powerful force that will keep you from reviewing those great achievements or challenges from twelve months ago.
DO give the benefit of the doubt to the self-assessments. After all, the employee himself is closest to the results you seek. Of course, make allowances that some exaggeration may exist, but still give the benefit of the doubt unless you have a reason to believe the employee is simply not telling the truth or is out of  touch with reality.
DO give attention to both qualitative and quantitative impressions and results. The quiet and receding person may actually possess the most skill at actually seeing projects through to completion.
DO use neutral language. There is a language—a non-alienating way of saying things—for performance reviews. It is important to learn it. There are a number of books on the market that will offer the impact statements for what it is you desire to tell your employee. Your employees will not tolerate what they see as mistreatment for very long before their job satisfaction is affected and they consider taking a job with your competition. Before writing your next performance appraisal, be sure you know the rules of criticizing others.
DO review alternate performance review examples to make sure you are using an effective template specific to your own company.
Although not the favored thing to do, how to write a performance appraisal well is a skill well worth mastering. Appraisals do fill a good strategic business need when combined with incentives, bonuses, goals and objectives. These tools have the ability to make us all better employees.
For more information about how we can help you with your Human Resources, call us at 888-700-8512, request a proposal or contact us.